Details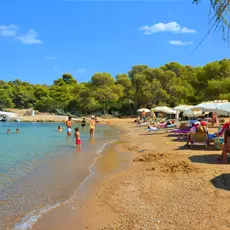 Crystal water and pine trees reaching up to the water is the landscape that the visitor will face. It is organized with sunbeds and umbrellas.
Organised
Umbrellas & Sun beds ◌ 10€/set
Tavern
Transition
By your own vehicle
On foot
By bus
By taxi
By boat - sea taxi
Distance
30' from the port of Spetses • 2 hours on foot
Road Nerwork
Asphalt up to here and μετά χωματόδρομος
Tips
Do not trust google maps to find the beach. The instructions given by the application are wrong. Head to this point and then follow the dirt road which leads to the beach

At argosaronikos.gr we strive for constant updating and accuracy of the above information. If you wish to provide a correction, please fill in the contact form.