Details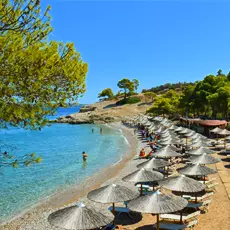 Organized beach which is accessible and by bus. In order to burn out the tiredness of the visitors, there is a beach bar.
Organised
Umbrellas & Sun beds ◌ 12€/set
Tables underneath the trees
Beach Bar
Transition
By your own vehicle
On foot
By bus ◌ 2€/person
By taxi
By boat - sea taxi
Distance
15' from the port of Spetses • 50' on foot

At argosaronikos.gr we strive for constant updating and accuracy of the above information. If you wish to provide a correction, please fill in the contact form.