Rent a boat Poros - Poros
Details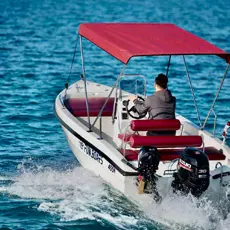 Experience the Magic of the Saronic Gulf with Rent a Boat Poros!
Unlock the secrets of Poros Island in Greece with an unforgettable adventure on the crystal-clear waters of the Saronic Gulf. Rent a Boat Poros is your ticket to exploring the island from a new perspective, with a range of boat rental options that cater to every need and preference.
Embark on a journey of discovery with friends and family, free from the constraints of a boating license. Rent a Boat Poros provides leisure boats that are easy to operate, allowing you to enjoy the serene waters of the Saronic Gulf with ease. With our comprehensive map and recommendations, you can explore the island and its surroundings at your own pace.
Our boats are well-maintained and equipped with the latest safety features, ensuring a smooth and safe boating experience. Choose from a variety of boats, from small vessels perfect for couples to larger options ideal for families and groups.
In addition to swimming in crystal clear waters, Rent a Boat Poros offers masks and kids' waterboards so you can explore the beauty of the underwater world. Soak up the sun, try something new, and create memories that will last a lifetime.
Make the most of your visit to Poros Island with Rent a Boat Poros. The possibility to swim in your own "private" beach and our easy to use boats make your holidays unique and unforgettable.
Safety
Brand new boats, equipped with the most up-to-date safety systems (reserve engine, life jackets, paddles, flares, gps).
Comfort
"Rent a boat Poros" boats have comfortable seats with cushions, a tent, a cooler, a radio with Bluetooth connection and a ladder to enjoy your dives in the deep blue waters of Poros with ease.
Storage space
The storage space of the boat is large enough to hold all your personal belongings, as well as masks - boards for children to explore the seabed.
Pets are allowed
Your four-legged friends are welcome on the boats of Rent a boat Poros.
Photos
Contact
Send a message to Rent a booat Poros