Details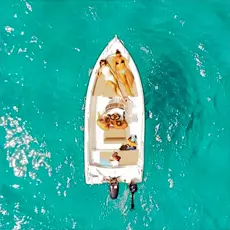 Driven by quality and safety we can provide top boat rentals and excellent customer service.
Nakas rentals is a boat rental company based in the beautiful island of Poros just in the heart of the Saronic Gulf.
The founder Captain Ioannis Nakas with more than 20 years of experience in the maritime industry promises to our customers satisfaction by creating unique experiences according to their needs and above expectations.
Our motor boats are constantly maintained and fully equipped with the latest navigation and safety equipment in order to meet the highest standards.
Trust the knowledge, the experience and the seamanship that we share and get ready for a safe luxurious and enjoyable trip. The sea is ours!
Our Services
Boat Rentals without licence
Tailor Made Cruises
Snorkeling & Wreck Snorkeling
VIP Transfers
Villa Tender Boats
Yacht Chase & Tenders
Race & Flotilla Support Boats
Photos & Videos
Contact
Send a message to Nakas Rentals