Details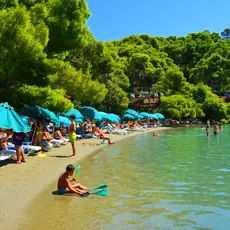 This name is not given by luck, because this is a peaceful beach where the green of the pine trees is combined to the light blue on the lean line of sand. It is the perfect destination for the romantic ones.
Organised
Sunbeds & Umbrellas ◌ 8€/set
Canteen
Transition
By your own vehicle
On foot
By bus
By taxi
Distance
12' from the centre of Poros • 1 hour & 5' on foot
3' from Neorio • 15' on foot
8' from Askeli • 45' on foot
15' from Monastiri • 1 hour & 15' on foot
Parking
In public space, at the road above the beach

At argosaronikos.gr we strive for constant updating and accuracy of the above information. If you wish to provide a correction, please fill in the contact form.