Details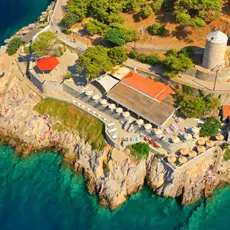 Another rocky beach, found at the most picturesque point of the island, just under the guns of the port.
Organised
Umbrellas & Sun beds
Beach Bar
Distance
At the port of Hydra (West)
Tips
If you have never tried diving from rocks, this beach is not suitable for you. In this case, you can enjoy your coffee and some sunbathing.

At argosaronikos.gr we strive for constant updating and accuracy of the above information. If you wish to provide a correction, please fill in the contact form.