Details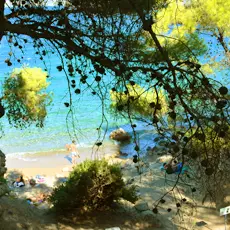 On the road towards Chalikiada, before you reach there, there is a small bay with crystal-clear waters, surrounded by pine trees. This is Skliri beach, a secluded beach area with a tree-filled natural beauty.
Non-organised
Transition
Reach here with your own vehicle or by taxi
and then down to the beach on foot
Distance
10' from Megalochori • 1 hour on foot
15' on foot from Skala
Parking
In public space, to where there is road access
Tips
Camping is forbidden at the beach, as well as in all of the Agistri area. We have witnessed fine impositions on campers during the summer of 2019.

At argosaronikos.gr we strive for constant updating and accuracy of the above information. If you wish to provide a correction, please fill in the contact form.