Details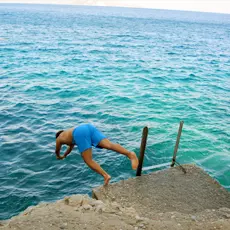 It is a rocky beach, about 300m. from Limenaria (after the main square, turn left), surrounded by pine trees. The water is deep so it's a good chance to swim around and play.
Non-organised
Transition
Reach Limenaria with your own vehicle or by taxi
and then on foot
Distance
20' from Megalochori • 1 hour & 20' on foot
25' from Skala • 1 hour & 40' on foot
Road Nerwork
Asphalt up to here and then a forest trail
Beach type
Deep waters, with a diving platform
Parking
In public space, to where there is road access
Tips
If you love taking a dive, you'll have a great time!

At argosaronikos.gr we strive for constant updating and accuracy of the above information. If you wish to provide a correction, please fill in the contact form.