Beach Dragonera - Agistri
Details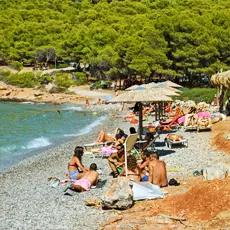 To get to Dragonera, follow the route Megalochori-Limenaria. In the middle, you will see a sign "Dragonera" (right). The road passes through dense forest and you will see that the trees stop just before the sea. The waters are crystal clear and the harmony of pine and sea offers a relaxing environment. The beach is pebbly and has sun beds as well as a canteen where you'll find everything from coffee to souvlaki!
Organised
Sunbeds and umbrellas
Canteen για cafe, ποτά, σουβλάκια!
Transition
By your own vehicle
On foot
By bus
By taxi
Distance
6' from Megalochori • 32' on foot
12' from Skala • 53' on foot
7' from Limenaria • 36' on foot
Tips
Beware of the urchins! It is not difficult to avoid them since they are visible because of the crystal clear waters in Dragonera.
It is worth staying at the beach until the sunset and enjoy it.
The pork souvlaki of the canteen is ideal after your swim.

At argosaronikos.gr we strive for constant updating and accuracy of the above information. If you wish to provide a correction, please fill in the contact form.