Chalikiada Beach - Agistri
Details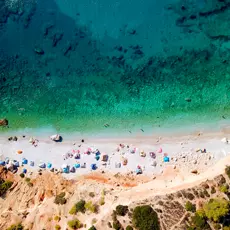 Previously it was only nudist beach. In order to go to the beach you should go from Skala to Skliri. Then you follow the path (on foot) through pines. Approximately 600m. further you will reach the edge of the path where if you look down you will see a beautiful beach in a blue bay. To go down at the beach, great care is needed because access is difficult, but those who go down, will be rewarded!
Non-organised
Transition
Reach here with your own vehicle or by taxi
and then on foot
Distance
10' from Megalochori • 1 hour on foot
30' on foot from Skala
Road Nerwork
Asphalt up to here and then a forrest trail
Parking
In public space, to where there is road access
Tips
For your descent to the beach, we would suggest you to wait for someone experienced to come, so that you can see the way.
Camping is forbidden at the beach, as well as in all of the Agistri area. We have witnessed fine impositions on campers during the summer of 2019.

At argosaronikos.gr we strive for constant updating and accuracy of the above information. If you wish to provide a correction, please fill in the contact form.