Rent a Boat Aegina - Aegina
Details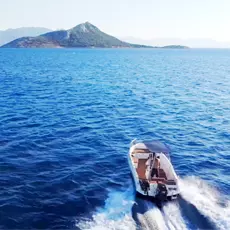 Rent a boat Aegina operates in motor boat rentals, with or without license, in the region of Aegina, providing you with the absolute summer experience!
They boast boats with highly reliable motors 30-40 and 100-140 HP. A boat with 30-40 HP, can accommodate up to 5 people and no power boat license is required. On the other hand, boats with more powerful motors can accommodate up to8 people, and a license is mandatory. In both boat types, you can ask for a crew for your trip in order to enjoy leisurely the beautiful places of Aegina, Agkistri and the surrounding islands.
You can get your boat at the port of Aegina, after listening to the instructions presented by the staff of Rent a Boat Aegina. They will answer all your questions and when they are sure that you are ready to sail they will give you permission to leave.
Then, you can sail around Aegina, Agistri and the rest of the nearby islands including the exotic beaches of Moni and the beautiful beaches of Agkistri, (Aponisos, Chalikiada, Dragonera, Mariza and Skliri). Even on a small boat, this venture is safe and comfortable.
Rent a Boat Aegina boasts great experience in the field, since it was founded in 2016 and it was the first business operating on the island. Leave everything to the experts and enjoy a unique experience!
Provisions
Crew (captain), both for small and big boats
Sailing instructions before departure
Recommended schedule by a captain of the company, depending on the weather conditions
GPS on boat, for immediate help by Rent a Boat Aegina, anytime
Rescue equipment complying to the safety standards
Yacht Chase & Tenders
Full fuel tank and an extra tank in case of an emergency
Photos & Videos
Contact
Send a message to Rent a Boat Aegina
Reviews
Great experience, the boat was clean and looking as new; great service by the staff and the beaches they recommended were amazing!! See you next year!!!!

Great service, clean and safe boats. Amazing experience!

Ioannis Mikros

October 3, 2021

A very good experience. The boat was good and clean. The service provided was professional and friendly. We will definitely make a reservation again next year!

Trimis Pantelis

May 10, 2022

Great professionals. The best option for our trips...

Very good communication, instant service and the best prices on the island.. The boat was very good and John was amazing...!!!

*100% actual reviews, as they were published in Google maps