Details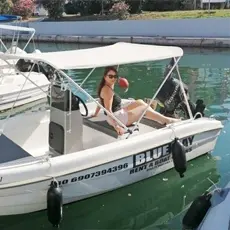 Blue Day Boats, is active in the field of boat rentals with or without a sailing license in Aegina. Their staff is willing to explain to you in detail everything you need to know before you become the captain for one or more days.
That way, apart from visiting the most cosmopolitan and famous beaches of Aegina and Agkistri, you have the chance to reach coasts inaccessible to the public, since they can only be reached by boat or after hiking long distances. You will enjoy your privacy in some very beautiful places of Saronic Gulf.
If you don't feel comfortable sailing a boat, you have the option to hire a captain from the staff in order to enjoy leisurely your trip without restrictions on the length of the boat.
Blue Day Boats, complies with all the safety rules in order to make you feel comfortable during your trip. In addition, all the necessary equipment is provided as well as a GPS track system so that our staff can help you in case of an emergency.
Book the boat you like now and check in at the most amazing beaches!
Provisions
Crew (captain), both for small and big boats
Sailing instructions before departure
Recommended schedule by a captain of the company, depending on the weather conditions
GPS on boat, for immediate help by Rent a Boat Aegina, anytime
Rescue equipment complying to the safety standards
Yacht Chase & Tenders
Full fuel tank and an extra tank in case of an emergency
Photos & Videos
Contact
Send a message to Blue Day Boats