Details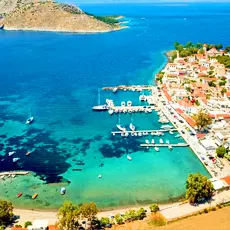 Perdika is another traditional village with sandy beach and crystal clear waters. The bay in which it resides, protects it from any adverse weather conditions. Opposite the beach is distinguished the Moni island. Near Perdika, one kilometer away, is the beach Sarpas, clean and quiet, away from tourist accommodations and houses.
Organised
Sunbeds & Umbrellas
Beach Bar
Transition
By your own vehicle
On foot
By bus
By taxi
Distance
15' from the port of Aegina • 2 hours on foot
30' from Souvala • 2 hours & 55' on foot
35' from Agia Marina • 3 hours & 50' on foot
Wi-Fi
Yes, from the adjacent shops
Tips
It is worth staying until the sunset, watching Moni and Agistri in the background.

At argosaronikos.gr we strive for constant updating and accuracy of the above information. If you wish to provide a correction, please fill in the contact form.