Details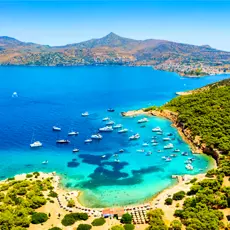 Moni is connected by ferry with Perdika. The eastern side of the island, that is located just opposite the island of Aegina has sandy beach, and is organized with a canteen that will cover your basic needs at the beach. The side of the island that "looks" to Agistri (west) is rocky with clear deep waters.
Organised
Sunbeds & Umbrellas
Beach Bar
Transition μέχρι την Perdika
By your own vehicle
On foot
By bus
By taxi
---
Distance για Perdika
15' from the port of Aegina • 2 hours on foot
30' from Souvala • 2 hours & 55' on foot
35' from Agia Marina • 3 hours & 50' on foot
and in συνέχεια 10' με βαρκάκι για να περάσετε απέναντι in Moni
Orientation
East & West (οι 2 μεριές of the island)
Road Nerwork
Asphalt up to την Perdika, χώμα in Moni
Beach type
Sandy η Ανατολικor, με βράχια η δυτικor πλευρά of the island
Parking
In public space, in Perdika
Tips
Moni has been declared a Natural Park for prey breeding. During your stay on the isle, you are very likely to come across deer, peacocks and wild goats.
It is ideal for trips on yachts/sailboats

At argosaronikos.gr we strive for constant updating and accuracy of the above information. If you wish to provide a correction, please fill in the contact form.